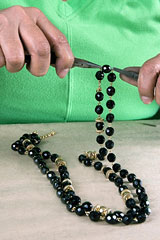 A woman in a bright green shirt is making jewelry. She uses tools to place wire strands on jewelry beads before the plating process. Jewelry making is a craft that has been around since the beginning of time. Whether you are making one piece of jewelry for yourself or for a friend, or whether you make multiple pieces to sell, jewelry making is a way to express a side of your creativity. Choose beads, stones, and gems that appeal to you, then arrange them artfully on wire, leather, or metal. The types of jewelry pieces you make are only limited by your creativity!
---
These results emphasize US manufacturers, service providers, and information sources.
Use the search box on this page to find websites about jewelry and other topics.
Copyright © Jewelry-Making.us. All rights reserved.

Jewelry Making - Custom Search Results